Is your washing machine hose's unsightly connection visible? Is that gaping hole in the wall an eyesore, collecting dust and lint? Here's a quick fix for a quick way to hide laundry room plumbing pipes.
It's not just a matter of aesthetics to hide unsightly plumbing; it can also be a matter of safety. Exposed pipes can cause tripping hazards and, in the event of a leak, water damage.
The laundry room is a functional place, but it isn't often the prettiest room in the house because of all the connections and hoses connecting to equipment. Even in your laundry area, exposed plumbing can be ugly and detract from the overall appearance. There are a few ways to make your laundry room usable and pleasant by decorating it and hiding unsightly plumbing.
Hiring a professional to hide pipes behind washing machine space can get expensive, but you can hide most of the plumbing yourself without spending money. However, they don't have to. We've researched many ways to hide washing room pipes to make the laundry room more appealing. In this post, we will share these ideas with you.
1. Appliances can help hide laundry room plumbing
Hide the piping in your laundry room beneath your washer and dryer. Place your washer and dryer in front of the pipes, as shown in this laundry room. Plan your laundry room's layout such that your washer and dryer hide the hot and cold water faucets, as well as the dryer hose.
The plumbing in a laundry room is usually low enough that you can disguise ugly plumbing elements with your appliances.
If your plumbing isn't low enough, install decorative corner units instead of pipes.
To cover extra pipes, cables, and vents, place a small wooden table between your appliances.
If you don't have a washer or dryer, conceal the piping with a closet, substantial table, or bookcase.
2. Cover them with bins and baskets
In your laundry room, there are various ways to repurpose visible drainage pipes into storage and organization options. If the pipes in your laundry room are close to the ground or go straight up a wall, consider putting tiny baskets or storage bins in front of them to hide them.
Put them beneath the sink and forget about them.
Baskets can store soap, supplies, and clean clothes. They're fantastic!
Anchoring the pipes in your laundry room with a basket or bin that houses excess goods, such as cleaning materials, can give them a new home.
Consider a wet-clothing basket, a dry-clothing bin, or even a tiny shelf for hanging garments.
You may also add a shelf to the cabinet to hide the pipes in a wall-mounted sink. This is a simple DIY that will make your laundry room more useful and attractive.
If you have a leakage problem in the future, make sure the bins are a few inches away from your pipes. Consider using pipe covers for the exposed top sections of the bins if the height of the bins does not entirely cover the pipes.
If you're running water from the sink, though, make sure the pipes and holes aren't in direct contact with the water.
These bins cost around $10 and can be found online or at a craft store. Search your home for any baskets or extra bins you may have lying around and save a few dollars.
3. Install a towel rack
Consider putting a towel bar on the wall where the pipes are located to disguise those unattractive lines if you have a laundry room with a built-in sink. A towel bar can hold towels or a lint brush while also serving as a place to hang bathrobes. In neatly finished areas, this makes the pipes and holes less noticeable. Cover the pipes with a shelf.
This will only work if the sink is elevated, but you can also use it to hang clothes or hand towels if you build an overlay shelf that blends in with the rear wall.
4. Add a shelf
Another inventive technique to conceal your pipes is to construct a shelf in front of or around them. You'll have additional storage for your laundry-related tools and materials, and it'll be cheap and simple to do. Make a bookshelf out of the shelf by stacking a handful of your favorite paperbacks on it. If you're going to build your own shelves, start with the ceiling.
Create a cavity within the shelving to leave enough room for the pipework without eating up some extra floor space.
Make a cavity in the shelf to accommodate the piping without taking up additional floor space.
It's a terrific way to put your favorite towels, baskets, and other decorative objects on display in your laundry room.
If you have a lot of things to store, consider installing a shelf that runs the length of the wall.
You can use it to store cleaning and laundry supplies by filling it with storage containers, cartons, or baskets. It'll look fantastic.
Allow space in your room for your most gorgeous laundry room towels to be hung.
The best part about this strategy is that it is both inexpensive and simple to implement. That will fully divert attention away from the plumbing beneath it.
5. Make use of a large mirror
Mirrors are a terrific way to add personality to your laundry room while also making it appear larger. However, it can also conceal laundry piping. Hanging mirrors neatly and securely on overall plumbing pipes can cover the pipes' ugliness while also adding elegance to your laundry area.
Use mirrors on both sides of a two-way sink in your laundry room. If the space is compact, consider hanging a large mirror over it to make it appear larger.
6. A curtain to hang
Hanging a curtain is a quick, easy, and cost-effective option to conceal your laundry room's plumbing.
You can, for example, hang a shower curtain over the gap in a two-way laundry room with an island in the middle.
Install a Wall-Mounted Display A Hi-Fi closet organizer in your laundry room's closet could be a great alternative. It includes many compartments and pouches in these organizers to keep your cleaning supplies and laundry goods properly organized. You may hide everything by hanging a curtain in front of the organizer.
Install a shower curtain rod and use a vinyl or washable fabric shower curtain. If plumbing repairs are required, you and the plumbers will have easy access.
7. Putting Up Folding Doors
Another quick way to hide laundry room plumbing is to use folding doors. Folding doors are simple to set up and can conceal plumbing pipes.
To attach it, you'll need hardware and tools. You can find these items at your local hardware shop. Folding doors are affordable and simple to install, but you should double-check clearance before buying them.
We could use these as a closing for the laundry room or on the wall where the plumbing was installed. They can cover the laundry area with sheetrock if you desire to close it off.
8. Make a platform or pedestal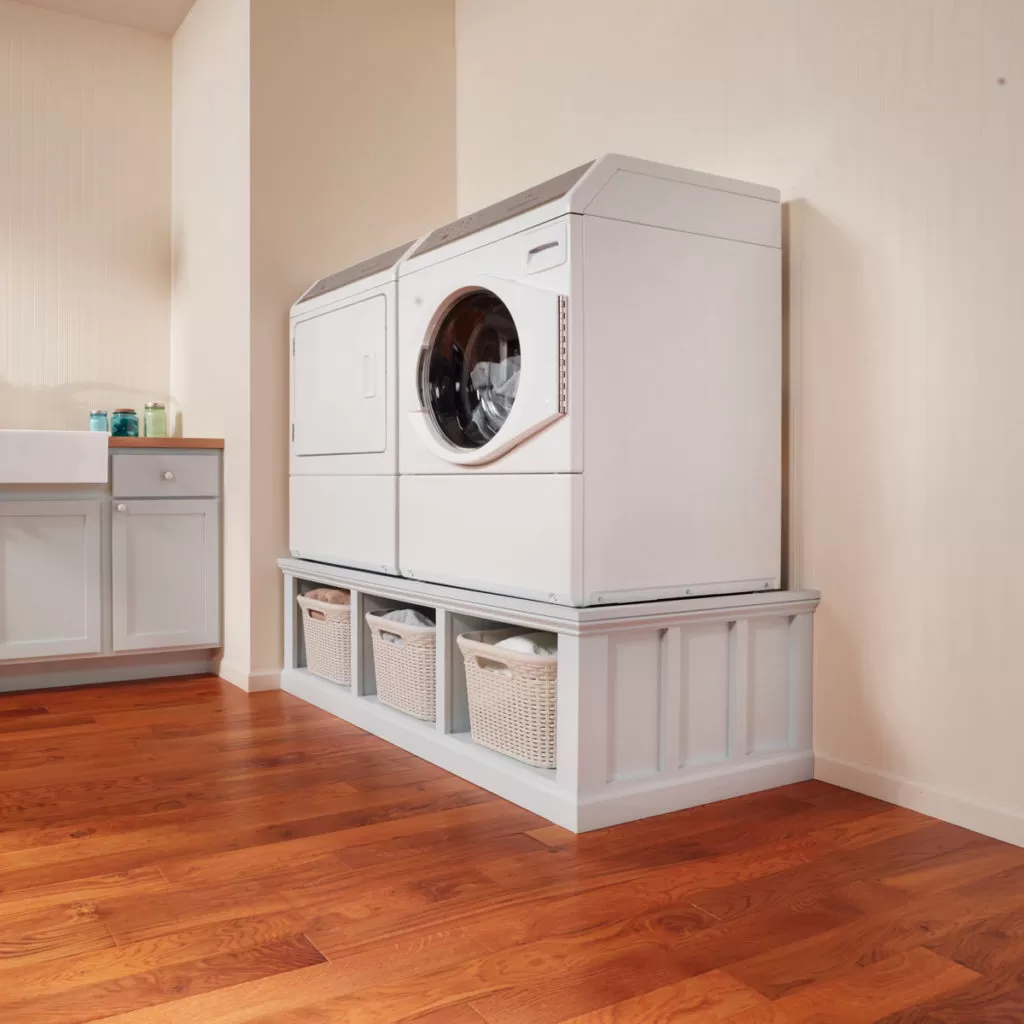 Many individuals put their washing machines and dryers on pedestals. This can solve several issues at once. These appliances are typically lower than electrical outlets.
In the event of a leak, this lifts the appliances above the floor.
It may be easier to troubleshoot leaks if the water drains to the floor rather than onto your clean garments.
Placing the appliances on a pedestal elevates them, making them easier to clean around.
If they are covered, water can run down beneath switch covers.
The platforms or pedestals have the extra benefit of concealing the plumbing.
These pedestals may be easily moved by installing movable wheels beneath them. The pedestals may be readily moved to gain access to the plumbing.
9. Finish with some greenery
Real or fake plants can also hide laundry room plumbing pipes. If your pipes are close to the ground, consider planting a few potted plants in front of them to hide them. This is also an excellent way to add some greens to your laundry. Consider placing imitation vegetation wraps around your pipes if they run horizontally or vertically along the wall to make the area look more exotic. Hang some plants over the pipes if you don't want to do anything else. This isn't the most practical solution, but it's a possibility.
10. Build a fictitious wall
Consider erecting a false wall around the pipes in your laundry area. The wall must extend over the pipes, almost totally covering them. A few pieces of plasterboard, a few wood beams, and a handful of screws are all you'll need. Create your wall first, then add the plasterboard before attaching it to the beams using screws. Cover the wall, as well as the pipes, with a drywall coating that dries after brushing it on to achieve an even finish.
You can definitely build this wall yourself in a day if you're handy with a hammer and drill, saving yourself a couple of hundred dollars in contractor fees. However, to avoid water damage from leaks, waterproof the regions around the piping when constructing this wall.
11. Making use of wood pipe coverings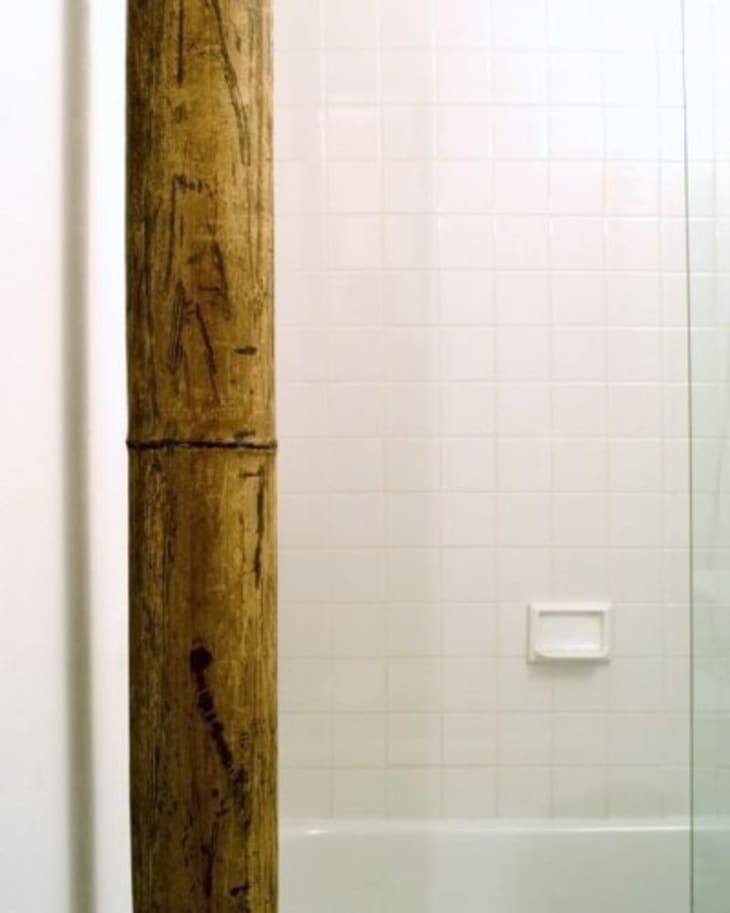 Wooden pipe covers are another great way to disguise unsightly drainage pipes in your laundry room. Use exquisite wood pipe covers to conceal the room's plumbing. Wood pipe covers can be found in your local craft store or on the internet. Depending on the issue, choose wood pipe covers that complement or complement your laundry's existing décor.
It's easy to use, and you can even build your own cover. Measure the length, width, and height of your pipes to verify that the wrapping will cover them fully without touching them directly.
Most of them are prefabricated, but you can also create your own out-of-wood slats. You can paint or stain the covers to give them a new look.
Wrap more string lights around the pipes and the ceiling to hide them and create a unique lighting effect. Wrapping is simple to do, and you can even make your own cover. Remember to measure your pipes' height, length, and width.
If you make a measuring error, you'll have to buy a new light to finish the project. This will ensure that the wrappings have enough room to cover your pipes entirely without touching them.
12. Sliding Door Installation
Install wooden sliding doors in front of your washer and dryer to hide laundry room plumbing and appliances. It can disguise and conceal unsightly piping in your laundry room. When you need to access your laundry room appliances, panel doors glide open easily. However, considerable carpentry skills are required for this bespoke project, but you only need wood panels, a top-shelf, fasteners, and tracks.
The sliding doors can be stenciled or painted in a complementing hue. When you need to get to your washer and dryer, panel doors glide open simply. Use rubber stoppers to prevent the panels from scratching or denting the walls.
13. Painting and boxing the pipes
If your laundry room has only one pipe, you can surround it with a wooden frame. Refinish it to match. We can make these cuts at your local hardware shop for a low cost. After cutting the pipe, caulk all the edges and let it cure.
You can eventually paint the extra box to match the room's wall color. Trim its top and bottom. This will enhance its appearance and size. This will give the laundry area a three-dimensional look and feel. Consider a drywall option while you're at it. It may inspire other amazing decorative ideas.
14. Utilization of wraparound lighting
Who said your laundry room could not have Christmas lights? Exposed pipes can provide an excellent opportunity to personalize your laundry room design. Wrap strands of multicolored or single-colored lights around the pipes in your bathroom to add excitement and character to the space.
Before installing the lights, inspect the pipes to verify there are no leaks. Otherwise, all of your hard work and effort will be in vain.
15. Closets are ideal placefs to keep appliances
Make a location to store your laundry room's piping and appliances. You may even construct a closet that is entirely concealed when the door is closed. Close closet doors or cabinetry to hide the washer, dryer, and plumbing components. This will improve the appearance of the space while also making the appliances easier to maintain.
If your washer and dryer are stacked, we can store the appliances and plumbing accessories in a tiny pantry closet or a hollowed-out shelving unit. The layout of an L-shaped layout once you've decided what will stay in the laundry room and what has to be hidden when you walk in. Use a coat closet or built-in cabinetry to hide the equipment and pipes for a traditional side-by-side washer and dryer. We will probably hide the plumbing if the laundry room appliances are hidden.
16. Make a Skirt Out of Fabric
To hide laundry room plumbing and appliances, sew or buy cloth skirting. To keep the skirting in place, cover it with a non-skid rug mat. Because we frequently positioned washer and dryer piping halfway down a wall, use a fabric skirt to conceal the pipes and appliances. Install the skirting to a built-in shelving unit above your appliances or a tension rod between the two walls where your washer and dryer are set.
Lift the cloth curtain and place it on the washer and dryer to gain access to the internal compartments when the appliances are in operation. With side-by-side washers and dryers, a cloth skirt works best.
17. Using design tape, cover them up
You'd be shocked at how much a little washi tape can change the appearance of exposed pipes. We may find this colorful tape costs around $20 and is available online or at any local craft store. Here's one option to explore if you want to turn those unsightly exposed pipes into gorgeous works of art. Stickers and decals may offer a splash of color to a plain living room, whether they're used as wall art or to cover up unsightly pipes.
18. Replace them with pipes that are more appealing
Replace your current pipes with a copper or chrome finish for an industrial effect in your laundry area. This will not only make your laundry room look more modern, but will also allow you to do a rapid makeover project and replace the old pipes. You can also use flexible metal pipes to replace old, stiff pipes. When remodeling, be sure to remove the old pipes and install the new ones. If you want to sell your house in the next several years, this could be an excellent option.
Place them in a box
Consider boxing in your laundry room's pipes with trim if they run down the lower half of the wall. It's a lovely ornamental touch that also conceals the pipes. You'll need to measure the width and length of the pipes for this procedure. Then, in most hardware, flooring, and lumber stores, look for an exact-width trim molding. This guarantees that the pipe trim boxes are complete, with some extra space between them and the pipe.
If you aren't handy, hiring a contractor to complete this task is an excellent choice, as it can cause precise measurements and cutting off the trim to fit perfectly over the pipes. Once you've got everything in place, trim away any excess molding. This procedure may be done with any sort of trim, and we can even paint the trim to make the room more appealing.
Wrap rope around them
Wrap rope around the water pipes in your laundry room for a rustic look. There are many colors, textures, and patterns of rope to pick from. For unique or handmade designs, go to a local craft store or shop online.
This is a terrific option if you're searching for an earthy approach to conceal those unsightly pipes from destroying the decor of your laundry room. Give your existing plumbing a rustic look by wrapping the pipes in a natural look.
Conclusion
Plumbing fixtures, especially exposed pipes, might detract from the appearance of your laundry room. However, there are many options for concealing unsightly plumbing in your laundry room. Select the approach that best fits your overall design concept and budget. The best solution will be determined by your specific situation. You can hire a plumbing specialist if you need someone to disguise the piping for you. Whichever option you choose, you can be confident of a high-quality, long-lasting finish.